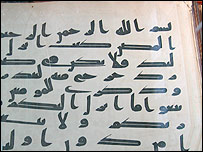 =====================================================================
700 YEAR OLD QURAN IN CHINA
| | |
| --- | --- |
| 700-YEAR-OLD KORAN DUE REPAIR | XINING, China – Chinese experts will begin repairing a 700-year-old handwritten copy of the Koran, the sacred book of Islam. The 867-page two-volume set, the oldest of its kind known in China, was brought to China when the Salar ethnic |
group moved east from Maracanda, the ancient name of Samarkand in Uzbekistan, about 700 years ago. Experts believe the text was completed before the 13th century. "The books have been seriously eroded and are in danger of rotting," Ma Weimin, deputy director of the Qinghai Provincial Cultural Heritage Bureau, told China View.
======================================================
ICTURE....This is an undated photo released by Christie's auctioneers of a 13th century Quran which has sold for a world record at the London auction house Tuesday Oct. 23, 2007. The religious artifact went under the hammer for 1,140,500 pounds ($US 2,321,770) - the highest amount paid for an Islamic holy book. Written in 1203, the tome is the earliest-known complete, dated Quran, transcribed in gold and was part of a sale of art from the Islamic and Indian World. (AP Photo / Christie's,ho)
==============================================================
$4,894,000 (£2,484,500)
Christie's London, April 8
Estimate: $200,000–$300,000 (£100,000–£150,000)
7th-Century leaf on vellum from a Qur'an manuscript.
On April 8, in a major sale of Islamic works of art at Christie's London, a 7th-century parchment leaf bearing a fragment of the Qur'an sold for $4,894,280 (£2,484,500), or 20 times its estimate. The sale set an auction record for any Islamic manuscript.
High prices have been paid in the past for illustrated and highly decorative Eastern manuscripts—for groups or even individual leaves from the great Persian epic, the Shahnama, and for purely calligraphic manuscripts of the Qur'an. In very recent times, however, there has been a marked increase in prices for very early, often single leaf specimens of Islamic calligraphy. William Robinson, head of Christie's Islamic department in London feels that the market for calligraphy "has become more mature and knowledgeable," but it should also be noted that those who compete at the very highest levels for the Islamic works of art appear free of any financial restraint, and prices frequently soar beyond even the most bullish estimates. In recent years the Al Thani family in Qatar, the oil-rich Arab emirate with the world's highest GDP per capita, have been major players in this market.
Almost certainly written in Madina in the second half of the 1st century hijira (7th century AD), the fragment shown here, in hijazi script, could be part of the codices of Uthman, the first officially written and authorized copies of the Holy Book; it may even have been copied by one of the companions of the Prophet. As such, it would be seen as a relic of the utmost religious and artistic significance. That the leaf was a palimpsest added to its interest. Parchment was valuable and regularly re-used, but after the Uthmanic codices had been ratified, no such changes to the holy text were permitted. IM
=======================================================================
An extensive Qur'an collection, and Islamic ceramics, coins and glassware stand together with guns, swords and daggers in the oldest museum in Jerusalem. A unique group of architectural elements help document the history of Al-Aqsa Mosque.
A section of the Museum's Qur'an Collection
==============================================================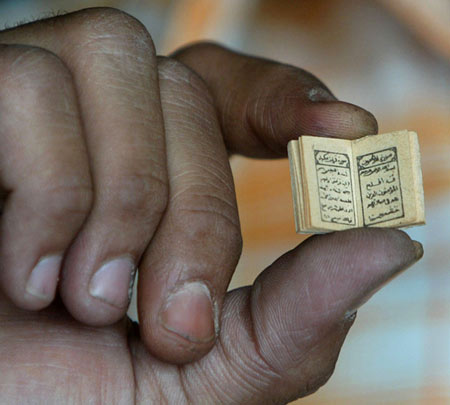 Die-hard Muslims should lend all their ears here. Touted to be the World's smallest Quran (the Holy book of Muslims); the quran is adorned on sapphire stones and fitted in pendants or wedding
rings
. They are been witnessed as a perfect accessory or emblem to be carried during marriage rituals. Counted 10,000 lines of wording is imprinted with a white
gold
whilst platinum have been extolled on mere 20
sapphire
nanochips, measure just 5.8 mm by 9.8 mm. Developed and designed by Mir Enterprises, a single piece would cost you $4,084.
Company's MD, Dr Mir Mokhtari told Gold News: "To give due amount of respect to the Quran, it will never be produced in big numbers. This limited edition jewellery will be designed for those who want to keep these words of purity close to them.
The stone is recognized as Micro Engineering of Quran as Art (MEQA) and took almost two years to give it a final shape. A layer of quartz protects the surface to guarantee the sacred text should not be made impure even with a mere touch. The Quran was featured at the IIR Dubai Bride Show from 23-26 April.
===========================================================================
Ethiopian, from Harar, dated August 31, 1773.
Paper, black and colored inks, original leather binding with stamped central medallion and corner pieces, 32 x 21.5 cm, Arabic manuscript on paper, 17 lines of black Eastern Sudanese script to the page, sura headings in red, vocalization in black, red and green, margins ruled in red and blue.
The text is written in a bold Eastern Sudanese script, with headings in red, vocalizations in black, red and green, and a marginal zig-zagging commentary set diagonally in red. It is a rare and early dated copy of a Qur'an from sub-Saharan Africa. It contains an introduction and orthographic index, outlining the principles according to which it has been copied in an effort to facilitate a correct reading of the Qur'an. In this instance, the guidelines were set forth by a 12th century scholar who was an authority on the art of recitation.
===========================================================================
THE ONE VOLUME COMPLETE ETHIOPIAN QUR"AN
A very attractive folio manuscript dated August 31st, 1773.
===========================================================================
A 30 VOLUME ETHIOPIAN QUR'AN in it's original storage case from Harar in Ethiopia (17 x 11.5 cm) c.1800
Arabic manuscript on paper, 30 volumes each with 25-30 folios, 11 lines of black Eastern Sudanese script, vocalization in red and black, sura titles in red.
Though the city of Harar in Ethiopia is one of the major centers of Islam in East Africa, very few Qur'ans from this area are found in European and U.S. collections. The 30 volumes of this complete Qur'an are in their original leather bindings and impressive leather storage case. Waaf notes on the first and last volumes indicate that the making of this manuscript was esteemed as a costly item. The inscriptions state that the set was endowed by 'Ashab ibn 'Abdallah', and to be be entrusted to 'his son Nasrallah, and then to his children and thereafter their children'. An inscription on f. 2r of the first volume records that the manuscript was copied by a certain 'Shaikh Bashir according to the Uthmanic rule'.
This set was bought from the man who ran the British Council in the 1960s in Harar, the old Islamic Sultanate in Eastern.
============================================================================
VOLUME FROM A CHINESE QUR'AN (Juz II)
Chinese, late 17th/early 18th century, 292 x 210 cm, 56 leaves
Paper, multicolored ink and leather
This is one volume from a multi-volume set of the Qur'an in Arabic produced in China. During the Mongol period of rule in China (1271-1368), the Muslim population of China increased through the influences brought from the Arab world. Arabic was the common written language among all followers of Islam, despite their cultural or linguistic differences. Following that time, Chinese Muslims remained isolated from trends in the West, and thus an archaic pre-Mongol period Iranian style remained popular for Chinese copies of the Qur'an. The text is written in black with diacritical marks indicating phonetic value in red and black.
==============================================================================